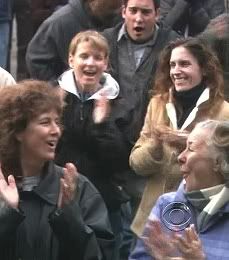 Town Jennie in tan coat listens to Mayor Gray's speech


YAY!!! Town Jennie, has agreed to answer questions from the fans!!!

Hello Vicki (Maybei)!
It would be my pleasure to answer some questions from
fans.... Thank you!
I've been meaning to stop by the Jeritopia but haven't had time to shoot the breeze. Say hello in there for me if you get a chance.
All the best to you,
~ Jennie

Thank you so much!!!!!

http://www.radiofreejericho.com/phpBB2/viewtopic.php?f=137&t=3769

So here is your chance to get those burning questions answered about her career, working on Jericho, etc..!!!
You can post your questions at link above, PM me on RFJ or email me at: Jerichomaybei@aol.com
I will be gathering them up and sending them to Jennie and then will post her answers.

About Jennie Sword:

She was in the crowd outside when they found Gracie had been killed, listening to Mayor Gray's speech, one of the Jericho army in the NUT's scene, serving dinner in Semper Fi, Hawkins pulled her to safety in Coalition of the Willing and she is driving the car that almost ran down Mimi in season 2. Those are just a few, she was a regular as a townsperson in both seasons.

We have gotten to know her from her posts on the CBS board, Shaun's radio show, Monster Blog interviews, chats with her in Jeritopia. She is an awesome person and always so willing to share her experiences about working on the show!
http://www.blogtalkradio.com/SHAUNOMACRADIO/2007/08/20/talking-jericho
You can listen to her on Shaun's show in the link above.

vicki - maybei :)
http://www.radiofreejericho.com